When I visited the Pop District Bazaar at Oakridge Pavillion last December 17 with the intention of finally ticking off every name on my Christmas list, I was overwhelmed by the sheer volume of things to choose from! Naturally, I had to stop by every single booth that sold the most popular (and insanely difficult to find) makeup products on the market. I drooled over the pretty Kat Von D, Jeffree Star, Too Faced, Colourpop, and Morphe displays. Ugh! I had to remind myself that this shopping spree was not for me… "Vida, put that Chocolate Bar Palette down! Focus!"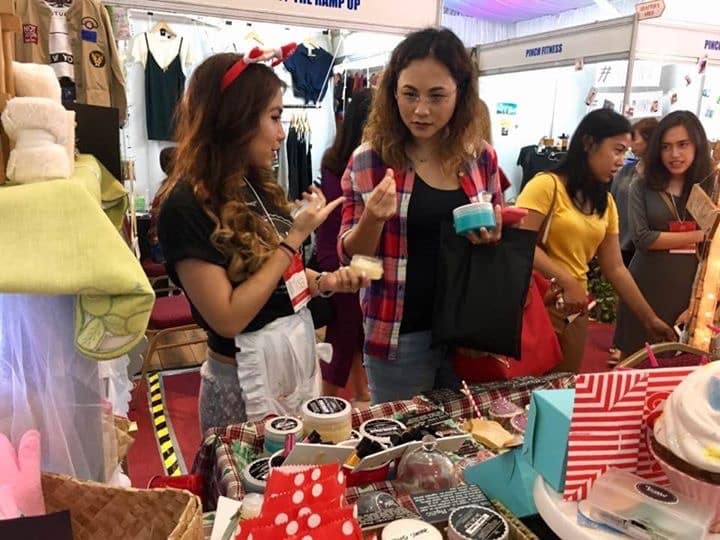 Anyhoo… I love bazaars particularly because they really give a lot of start-up businesses a chance to shine. It's nice to see people take a chance on their creativity and imagination. It's common for people assume that "locally made" means low quality, but that is simply not always true, and I clearly saw that there. It also takes a great leap of faith to start a new business, even if you don't necessarily do the manufacturing yourself. I believe that when we support local and small businesses, we encourage them to elevate the quality of their products, and we might just be helping someone achieve their dream. This year, I have made an effort to do so, and needless to say, I have come across some really great finds. Below are some of the things I found at the Pop District Bazaar I would totally recommend that everybody check out…
1. RecoveR (Total Body & Muscle Care)
This line of hand-made body products, which began in Trina and Rondey Rodriguez's kitchen, is quickly gaining popularity especially among serious athletes, gym rats, and yogis. Not only is their packaging on-point and eye-catching, but they actually deliver results!
Their Cooling Gel with menthol, is great for applying on sore joints and muscles after exercising. A waxier product, called The Balm and their Warming Spray are also popular remedies for tired, aching muscles. It's just a matter of what consistency you prefer.
They also have an aloe vera-based After Sun Gel, that helps to soothe sunburned skin, and feels even better when it's been chilled in the refrigerator.
Of course, nothing beats a nice shower at the end of a long workout, paired with RecoveR's most popular product, their Cool Down body wash with Peppermint Oil. It's also a great way to wake yourself up in the morning when you're in a but-mommy-I-don't-wanna-go-to-school kind of mood.
Check them out on FB: RecoveR
2. Raw by Roque (Artisanal Vegan Beauty Essentials)
I was happy to be able to check these products out at their final bazaar. I just found out that Raw is closing, which is too bad. Mikka Roque's colorful, quirky, pastry-themed body butters, bath bombs, body scrubs, and lip balms/scrubs are an obvious reflection of her bubbly personality.
Each product is hand made with 100% Vegan ingredients. I have been using her Body Butter in Bob's Your Uncle for the past few days, and am pretty pleased by the results so far. Because of it's thick consistency and potent scent, I apply it only to the driest areas of my skin, like the elbows, knees, and heels. I have to say that it is very moisturizing. Goodbye, cracked soles! You might still be able to grab her few remaining stocks until the end of the month, which you can find at www.facebook.com/Rawbyroque/.
3. Holla-PAIN-Yo! Hot Sauce

This stuff will be perfect to serve with chips for your parties… or if you just like stuffing your face with Taquitos while watching TV like I do. Don't let the name scare you away. The spice level is just right that it elevates the flavor of the chips without leaving your mouth in pain afterward.
However, if you're the type of person who likes dip your food in hot lava, this might be a tad mild for you. I've got a full 150ml jar of this stuff sitting in my fridge waiting for my next movie night at home. Yes, I kept this one for myself.
For orders, contact Tessa Bañez via mobile 0915-7930468, or IG: assetthesauceboss
4. Town Talk Polish
Apparently, this line of polishes has been around for a really long time, just not in Cebu. Now, I don't wear jewelry that often, so I didn't purchase anything from their booth, but I did look around and talk to the entrepreneurs that brought these products here. They have polishes that come in either a cloth or spray form for silver, gold, diamonds, pearls, brass, copper, and even for leather. Those who visited their booth were lucky enough to get their jewelry shined for free! You guys who love your blingbling or leather bags might want to give them a look-see at www.facebook.com/towntalkpolishph/
So, those were my favorite finds at this month's Pop District Bazaar. If you missed it, not to worry because there will probably be another one coming up in a few months.
---
The organizers did a pretty good job of making this one a lot of fun with freebies, raffles, live music from local artists, meet-and-greets with popular bloggers, and a food market right outside. Hopefully, I'll get to come back for the next one too, and maybe I'll see you guys there!