We had been trying for about three years. Finally, on January 25, 2020, I broke the news to my husband — I was finally pregnant! My body had been through a lot with IUI, months of taking Clomifene, which caused painful ovulations (It felt like my uterus was going to burst out of my abdomen, I kid you not), and even surgery. It had all been worth it.
We were elated and got to researching on baby stuff right away. We had a plan on how we would save for the birth expenses, what baby stuff we to buy every month, which cloth diapers to go with….
And then COVID-19 happened.
Since my internship year in 2007, I'd gotten used to attending to very sick patients with minimal protective gear, some with infectious diseases like pulmonary tuberculosis and AIDS. Every doctor in this country will have experienced the same thing. So, we don't scare that easily. But this was different. I honestly never thought I'd live long enough to experience something like this. It feels like the sort of thing that you only read about in history books, like the Bubonic Plague and Spanish Flu. Medical frontliners started getting sick and dying… and for the first time ever, I was afraid. And it's also the first time I've ever seen my colleagues and mentors afraid.
If I only had to think about myself, it never would have occurred to me to sit this one out. Whenever I played team sports in the past, I absolutely HATED being benched. I wanted to be in the game, to experience the adrenalin rush of facing an opponent head-on even if it meant getting injured. But this time, I had to think about the baby inside me. Although there has been no evidence so far of vertical transmission, since this disease is so new, experts in the field are still learning new things about it. We don't know if there is an increased risk of preterm labor and other complications in mothers who test positive for the virus.
I had to make the tough decision to request a work-from-home set-up from the company I handle and shift to telemedicine. I made sure to get the protocols in place and prepare our nurse, safety officers, and first-aiders should there be any cases while I'm away. I would be guiding them through phonecalls and online conversations from here on out.
Although I feel relieved that my baby would be safer this way, there is a certain amount of guilt that eats at me when I see my relatives and friends still on the frontlines. Did I do the right thing by staying home? In the beginning, I wasn't so sure. But over the last few weeks, as my belly has grown bigger, I'm now certain I've made the right decision. The guilt is still there, but I know I'd never be able to forgive myself if anything happened to my pregnancy because I put work first.
So right now, my family and I are safe… but there are so many who are still out there fighting against this unseen enemy. I have cousins, nephews, nieces, friends who are still putting their lives at risk, some in the worst-hit areas like New York and Manila. I fear for their safety and have had several sleepless nights just thinking about them. The past few weeks have been so emotionally draining. What has gotten me through are the promises that God has given in His Word.
"The Lord also will be a stronghold for the oppressed, A stronghold in times of trouble; And those who know your name will put their trust in you, For you, O Lord, have not forsaken those who seek You." Psalm 9:9-10
In Psalm 46, it also says, " God is our refuge and strength, a very present help in trouble, Therefore we will not fear though the earth should change And though the mountains slip into the heart of the sea; Though its waters roar and foam, though the mountains quake at its swelling pride… CEASE STRIVING AND KNOW THAT I AM GOD…"
God is in control. For everything that is happening right now, He has a purpose, and He is speaking to us. I suppose we needed a reason to be still and listen to what He has to say. Let's look to Him for hope in such dark times and trust that He's got this. At the same time, let's never stop praying for each other, for our frontliners, for our country, and for the rest of the world … because we are all in this together.
As it says in Romans 9:9, We need to…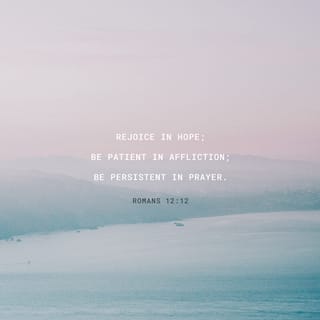 Stay safe, everyone!