It's been about a month since I started working from home and quite a few weeks since our local government placed the city under enhanced community quarantine. It's been making me a little stir-crazy especially on quiet workdays so I've tried to find different ways to take my mind off everything that's going on in the world. One of these is by taking out my makeup stash and having a little fun with it.
Tati Westbrook is one of the beauty Youtubers that I've been following for a long time and she finally launched her own makeup brand "Tati Beauty" last year, starting with the Textured Neutrals Vol 1 palette. It's a collection of 24 shadows made up of four different finishes: matte, sequin (basically matte with some fine glitters mixed in), metallic, and pressed glitter.
I'd been drooling over it since the launch, but at $48, it was kind of a splurge. Fortunately, one of my closest friends sent it to me as a birthday/Christmas gift so YAY! I've used it for two parties but not been confident enough in my makeup skills to go all out with the colors. Since I've got nowhere to go these days, I figured there was no better time to practice. I'm no makeup artist so I followed a couple of Youtube tutorials and adapted them to my hooded eyes — one by An Knook and another by Angela Bright. And here is what I came up with, doing different colors for each eye…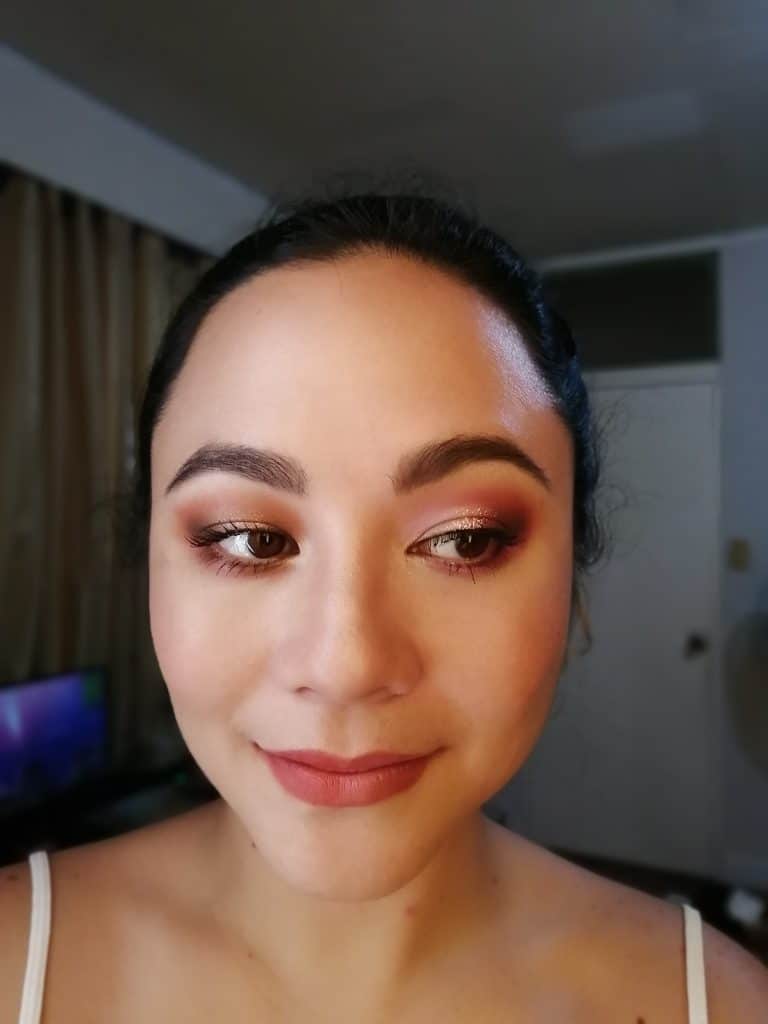 Warm Neutral Look
Purple Glam Look
You just can't resist the glitters in this palette so I tried to pull off this soft glam look, finishing it off with the pressed glitters.
Final Verdict: Yay or Nay?
Pros:
It has most of the colors you would ever really need if you're into mostly neutral makeup looks like I am.
You can easily take your look from daytime work-appropriate to evening glam.
The shadows blend like a dream, even the mattes… Perfect for busy people who don't have a lot of time to spend 10 mins blending a single shadow. They are also true to color in that you get the shade you expect when you apply them on your eyelids.
A little goes a long way so you get a lot of use out this one palette. It's going to take you a long time to hit pan on this even if you use it everyday.
Although $48 is a lot, if you consider that the palette has 24 shades, that's only $2 per shadow so it's not actually that bad.
It's got a really nice big mirror.
Cons:
The palette is kind of big so it would be a little hard to travel with. I usually like to bring more compact palettes for that purpose.
The mirror doesn't stay up. It lies flat so you have to prop it up with something. I sometimes just use another mirror altogether.
There is a lot of fallout with the pressed glitters. Although Tati says you don't need glitter glue to apply them, I would strongly advise that you use a setting spray after doing your makeup to make sure everything stays in place. I got one of those glitters in my eye at one point. Not fun. Also, do your eye shadow first before applying any face products so you won't have a hard time removing the fallout from your cheeks.
All in all, more pros than cons for sure. I am in love with this palette and will continue to play with it. I'm still determined to master the dreaded black smokey eye and the Memory (black) row of the palette is just stunning while intimidating at the same time.
So those are my thoughts on the Textured Neutrals Palette by Tati Westbrook. There are a ton of other reviews as well as tutorials online in case you guys are curious to learn more about it from more experienced makeup artists.
What sort of things have you guys been up to while social distancing during this ECQ?
---
Other makeup used:
Mascara: L'oreal Lash Paradise
Eyeliner (with purple look): Makeup Revolution liquid liner
Primer: Urban Decay primer potion
Eyebrow pencil: Etude Drawing Eyebrow