My hair wasn't always curly. It was pretty straight when I was a kid but started to get wavy in high-school, which made my chin-length bob look really weird.  Growing it out didn't help. I was simply clueless on how to take care of it. How I envied my classmates whose straight shiny hair bounced when they walked (I'm talking about you, Pears Florido. lol). No matter how much they ran around, they just never seemed to look messy. I sometimes looked like a tiny tornado had done a number on my head. The only thing I could think to do was brush it out and make it as straight as it would go, which resulted in frizzy, poofy hair. There were no answers on how to take care of it. Not in ads, in magazines, or even at salons.
Years of coloring (since I was fourteen years old) with no regular treatments also took its toll and left my hair looking lifeless. That's why I kept it tied up in a bun or ponytail most of the time. I don't think I ever left the house with my hair down all throughout college until I finally just chopped it off in 2003, and again in 2012.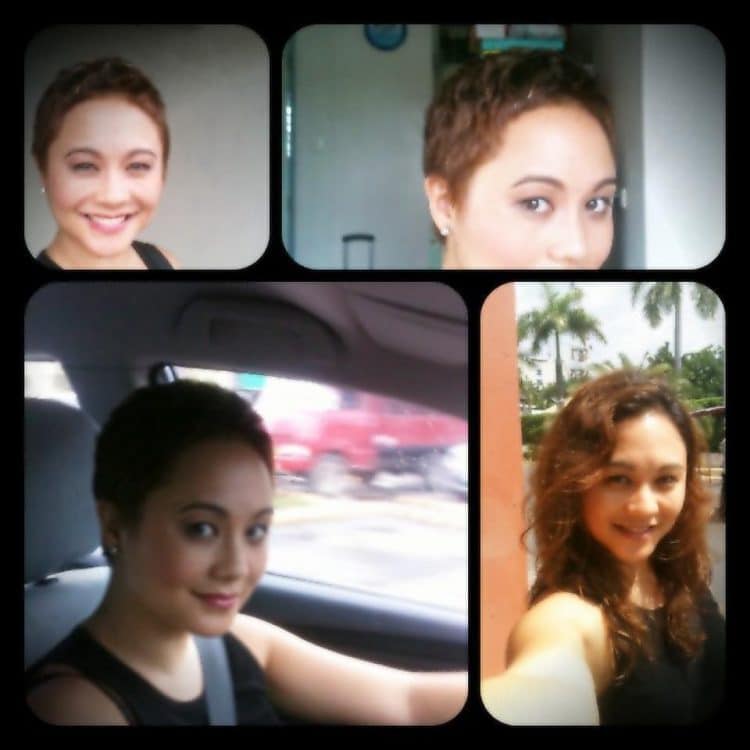 Second big chop of my life back in 2012. I just didn't want to have to deal with it anymore. (Cut and color by Stephan and Margie Zenz of Exposé Salon)
Eventually, I just accepted my hair for what it was. I tried to make the most of it by getting highlights and using mousse or sea-salt sprays, which at least made my waves look more "beachy". But they remained dry and brittle. I'm just glad I never jumped on the rebonding train because that would have just made it worse. It always annoyed me when salon staff would immediately ask if I wanted to get it done.
Anyway, about seven months ago, I unknowingly took my first step towards helping my hair to heal. In an attempt at a low-waste lifestyle, I shifted to shampoo and conditioner bars that happened to be sulfate- and silicone-free. Almost immediately after making the switch I saw my hair start to form tighter and more defined waves.
After I posted this picture, my sister Ria messaged me, raving about the Curly Girl Method (CGM), which I had never heard of at the time. She was the one with beautiful ringlets as a kid, which were eventually obliterated from lack of the TLC they needed. One day, she just got sick and tired of seeing her hair so damaged so she searched online for a solution. There, she discovered the method and tried it out. The results had blown her away so she wrote about her experience, which was later featured in several online magazines.

(Read her story here: Pinay Brought Curls Back to Life By Unlearning Everything She Knew About Hair Care)
So what exactly is CGM?
CGM is an approach to hair care that is specifically designed for naturally curly hair. It's based mainly on hairstylist Lorraine Massey's book, Curly Girl: The Handbook. 
What an eye-opener. There was so much information that it was actually kind of overwhelming. I had to do it in increments. Just to summarize, these are the most important tips I got from CGM, which have made all the difference in my hair since I started…
The first problem was that I didn't understand what kind of hair I had. This proved to be crucial in determining what type of products to use. Turns out I have low porosity hair, which means it doesn't absorb water easily. I also started with 2a-2b waves and ended up with a mix of 2c waves and 3a curls. Who knew?
 
You need to read the ingredients list of the products you buy. I had no idea that most products being advertised on TV that promised healthy, shiny hair were actually contributing to the damage. If you take a closer look at the ingredients list of most hair products, you will notice that most of them contain sulfates, silicones , and alcohols.
Sulfates, while great for removing grease and dirt, strip the hair of its natural oils and can sometimes irritate the scalp.
Silicones (the most common of which is Dimethicone) give our hair temporary shine by coating the strands and filling in the pores. However, because of its waterproofing properties, it also prevents moisture and nutrients from penetrating the hair. Eventually, the hair becomes very dry, dull and prone to breakage. Silicones also tend to build up over time and become very hard to wash off. This is why the very first step of CGM is to remove the silicone build-up with dishwashing liquid. Weird, I know… but it works.
Most alcohols that are used as preservatives in hair products are very drying.
Using a hairbrush on dry hair is a mortal sin.
A good conditioner is a curly girl's best friend. Applied properly with the Squish-to-Condish technique is vital to moisturizing the hair. I'm currently trying a few different conditioner bars to see which one works best for me. (Review and comparison to follow in a month or so.)
Deep-conditioning once a week is a must. (I kinda grumbled about needing this extra step at first… until I saw the results.) I currently use Human Nature's Natural Daily Treatment for that. Good stuff. 
Using only microfiber towels or cotton t-shirts to pat or plop the hair dry diminishes frizz.
Gel, applied only when the hair is dripping wet, works wonders in keeping the curls intact. I'm really happy with my L.A. Looks Extreme Sport Gel.  
Satin or silk pillowcases will also diminish frizz and reduce hair breakage.
Several months into it and I am amazed at how different my hair looks and feels. I'm now more comfortable and confident to leave it down much of the time. On good days, I can actually see ringlets and spirals!
Of course there are days when my hair decides to behave like a petulant two-year old crying "NO!" And sometimes, I just feel too lazy to style it. It's on those days when my scrunchies come to the rescue. It is what it is. The most important thing is that my hair is the healthiest it's been in a long time. Now I actually get asked where I got my nice perm. How ironic is that?
I'm still learning as I go. Fortunately, my sister started a community on Facebook called, "Curly Girls Philippines" where curly Pinays can exchange tips, learn new hair care techniques, share their favorite CG-safe products and where to find them, etc. We have members with wavy hair, curly hair, kinky hair, and even some with straight hair but who have kids who are curly. In just a few months, we have grown to over 1,000 members.  The transformations have been nothing short of encouraging. 
Best of all, it's a community where everyone is celebrated for their natural beauty rather than criticized for not conforming to what society has accepted as beautiful. 
If you would like to learn more about the Curly Girl Method, you can click on the link above to join our Facebook community. You can also find us on Instagram: @curlygirlphilippines.
Free the curls!