I first heard of Sagada, Mountain Province years ago when my younger sister went with some friends. At the time, there wasn't  a whole lot of buzz about the place, unlike today. She always said we should go there even just once in our lives. We put it off for a long time.
Last week, we finally decided to make the trip there since we were already in Baguio City for a family reunion. I have to say– What an experience!
Roadtrip
From Baguio, fifteen of us including my son, husband, parents, some relatives, and a family friend, pile into two vans and head north.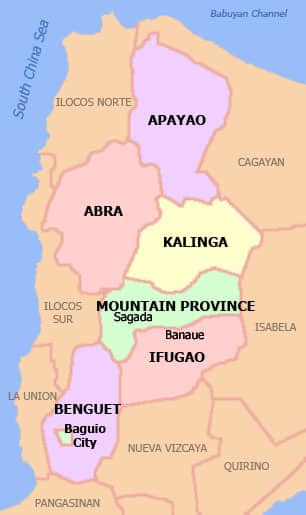 I guess "exciting" would be one way to describe the road to Sagada. The agency told us that it would take only 4 hours to get there. I quickly realized that was true… if you are going at break-neck speed. This is especially dangerous because the roads, although mostly paved, are winding and bordered by treacherous cliffs. Some sections don't even have railings! The drivers look at me with exasperation as I repeatedly tell them to slow down… until we pass by a group of rescuers in full gear, who had just finished extracting a man from a truck that had fallen off the cliff. I have no idea if he survived. Not so crazy now, am I?
Once we slow down, we are able to enjoy the scenery more. We see the most brightly-colored flowers growing wild along the side of the road — the kind that would probably cost a fortune in our local floral shops. Lilies, mums, baby's breath, morning glories were in full bloom. It seems all the homes there, no matter how small they are, have gardens anyone would boast about.
As we approach late afternoon, the fog descends on us, making the countryside look more like a scene from Silent Hill.
We finally arrive safely after 7 hours (with 3 pit-stops), and check in at the Hidden Hill Inn. It is a simple place with 5 rooms, 2 queen-sized beds in each, a kitchen, dining room, and hot showers. We had to bring our own toiletries though. There is no air-conditioning, not that we need it anyway. However, since our open windows let the cool air in, they also welcome beetles, moths, grasshoppers, and even a daddy-long-legs spider. Talk about being one with nature! My aunt spent a good part of the night swatting them away. Haha!
Spelunking
Early the next morning, we walk to Sagada Happy House for breakfast.They serve pretty good breakfast combos with Sagada Brew. Ahhhh… Just what I need to jump-start an action-packed day.
First on our itinerary is spelunking at Sumaguing Cave. A staircase with handrails leads to the entrance of the cave, but after that, we just have the rocks to hang on to. It's dark inside, and so we have two guides who hold kerosene lamps to the light the way.
We didn't expect it to be that difficult and dangerous. Some of us are not wearing the right shoes, while others, including myself, are battling knee injuries.
I do not look as glamorous or as cool as I had hoped descending into that cave. I have to alternate between wobbling on uneven, slippery rocks, draping myself over the larger rocks, and sliding down on my backside. At one point, my dad actually slips and falls. Thank God he is physically fit even in his sixties.
Nevertheless, we push forward as far as we can until we decide that going farther would be much too dangerous. IF I ever do go back someday, I am determined to get in tiptop shape and finish that 4-hour caving trek.
Someone joked that they should put rails and a clear path for tourists but I feel like that would diminish the whole experience. They should keep it the way it is and not change it for us city people.
When we get back to the top, we reward ourselves with Iced Buko popsicles from Sagada Cave Man, a souvenir shop across the road that also has clean toilets and even shower rooms that you can use to freshen up in for a minimal fee.
Coffin Hunting
The Church of St. Mary The Virgin
To get to the Hanging Coffins, we pass by this old stone church, which was built by American Anglican missionaries in the early 1900s. It is surrounded by pine trees and lush gardens, and has beautiful ceilings and pews made of local pinewood. A pretty rose window allowed for a lot of light to come in. The church sustained some damage during World War II and had to be repaired. I would have loved to have seen how it originally looked.
Outside, a large metal wheel is propped up as a monument. A plaque on the front explains that it is a hundred years old and came from the saw mill that used to stand here, also a project of the missionaries.
The missionaries did so much for this community, even establishing the school. No wonder many of the locals speak impeccable English.
The Famous Hanging Coffins
The walk down to the hanging coffins is quite a work out. At least there are real stairs and handrails most of the way. We took several breaks to take pictures and catch our breath. The area is so pretty that it serves as the perfect backdrop for a photo op.
Our guide, whom we called "Sunday" (real name: Dominggo), explains this unusual custom to us.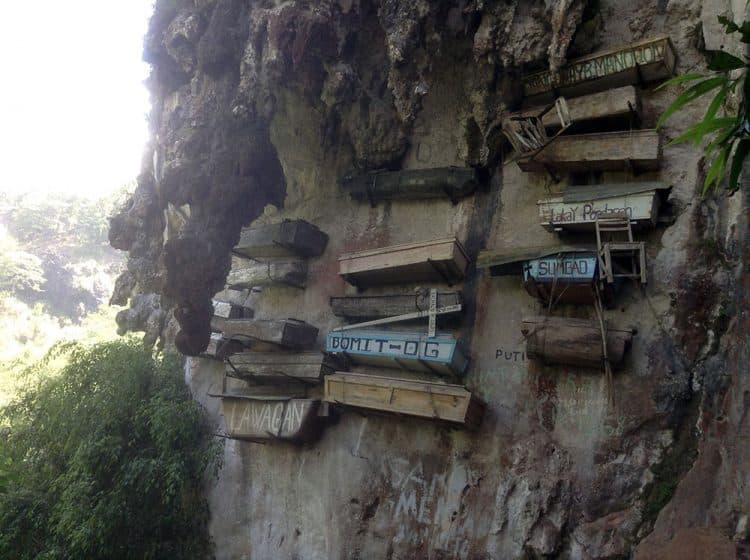 For centuries, or maybe even millenia, Sagada natives of the Aplay tribe were traditionally laid to rest in this manner. During the wake, the body of the deceased is propped up on a chair in a seated position while the family mourns. After that, the body is curled up into a fetal position before being placed inside the casket. This is why some of the coffins are short and wide. Then, we notice some wooden chairs strapped to some of the caskets. Apparently, since nobody wants to use the chair the body was on anymore, the people sometimes hoist it up with the coffin.
Since the introduction of Christianity and modern cemeteries, only the elders of the tribe are now buried this way. The longer caskets that are hung up on the cliff indicate that the body inside was buried in a supine position– also a sign of Christian influence.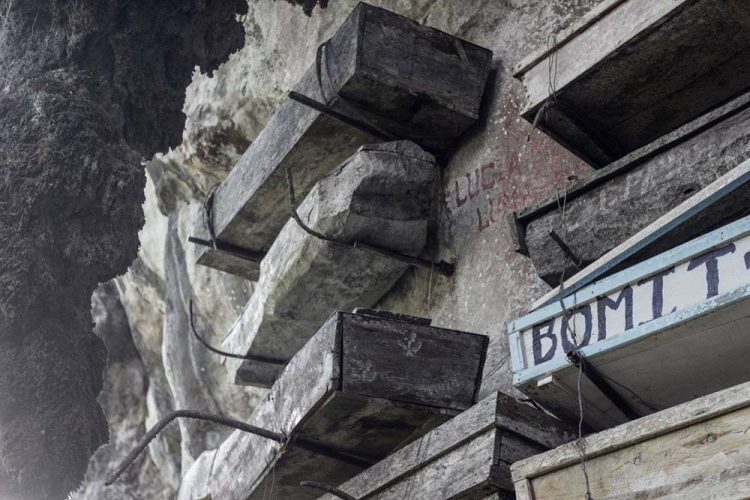 There are many more cliffs with hanging coffins around, which you can visit if you have enough time. At this point, we are exhausted and famished, so we climb back up to the top to grab some lunch. My legs feel like jelly about two-thirds of the way up.
This is what we looked like when we reached the restaurant–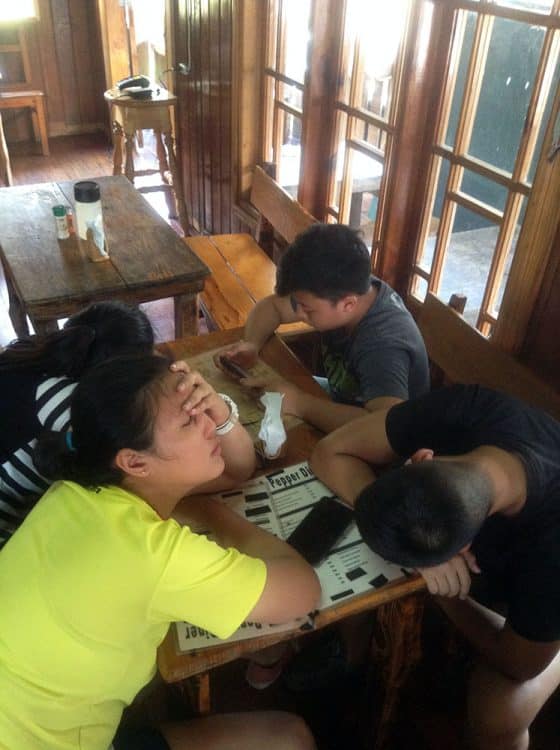 Sagada Weaving
This is a definite must-see in Sagada. If only I had a video or some photos to show just how complicated the whole process is. Signs posted all over the workshop state that they do not allow videos or photos to be taken. I grumble but comply anyway. We watch open-mouthed at the rhythmic movements of the women as they weave the colorful threads through their traditional looms, their bare feet alternating between 2-3 pedals with a steady beat. They somehow transform the hundreds of strings into yards of fabric with intricate designs. It looks almost like a dance. My husband jokes that these women would make excellent drummers. I am so glad they are keeping this craft alive.
Naturally, I feel compelled to get myself a souvenir. I see what you did there, ladies. You made sure the weaving room is so close to the showroom because you knew people wouldn't be able to resist buying stuff after seeing all that!
The showroom displayed several kinds of bags, scarves, table runners, etc. I end up buying a colorful woven bag.
Sagada Pottery
About 1.5km away from the town hall is a rustic workshop run by potters, Tessie Baldo and Siegrid Bangyay. They both trained at the Sagada Pottery Training Center established by Mr. Archie Stapleton in 2000. He had previously lived in Sagada in the 1960s with his missionary parents until he was twelve years old. I guess he loved the place so much, and believed that pottery could be a sustainable source of income for the people, so he came back after 40 years to start the workshop.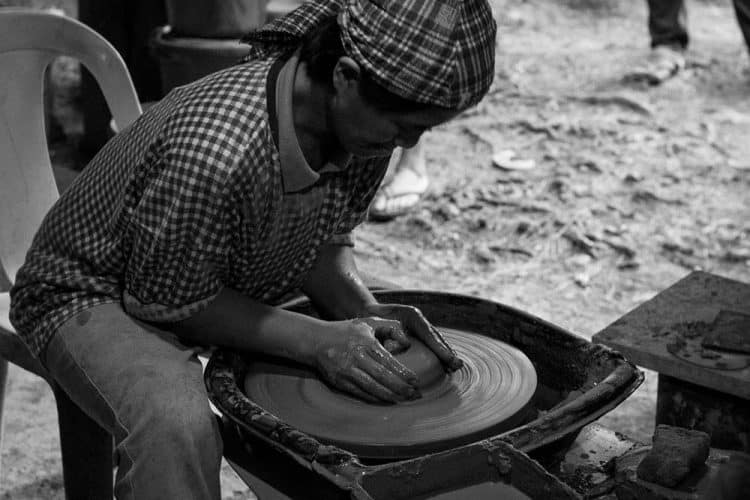 The artists started off our "tour" by explaining the whole process to us. First, they test the clay they collect from the mountains by exposing it to a temperature of 2,300 degress fahrenheit. Only the clay that is deemed of good quality is used to make their masterpieces. They make three types of products, namely: earthenware, stoneware, and porcelain. After molding, they subject each piece to air-drying, trimming, firing, glazing, and then re-firing. The pots are finally ready for use after a whopping 3 months! Wow! Their products are all safe for food storage and are even microwaveable.
I was thrilled when they invited us to actually try making pots for P100 each. Now I want to find a place in Cebu where I can take lessons!
As we browse through their finished products, we munch on the freshly-baked whole wheat bread that they sell. They had several flavors: blueberry, cinnamon and raisin, and chocolate. So good!
Sunset at Danum Lake
Now, this place gave us quite a few surprises.
The lake is situated in a quiet area. At first, it looks like there is nothing unusual about it… until we see the strange light fog that seems to be creeping over the water's surface. The Indian guy selling flavored Greek yogurt by the lake (I told you the place was full of surprises…) says no one there understands why this phenomenon happens. There was no fog anywhere else in that area at the time. Some scientists have offered to dive into the lake and do some tests but the elders do not allow it. Since  most of the people there still practice Animism, they believe the spirits of the lake should not be disturbed. They call it, "Smoke On The Water." (Cue Deep Purple guitar intro)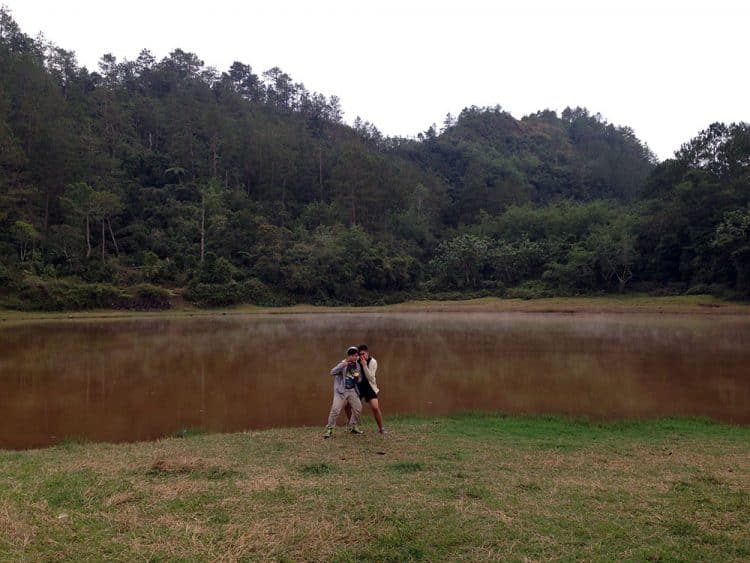 We walk about 10 minutes away to a wide clearing where we feel we could catch the best view of the sunset that we've heard is supposed to be really pretty. It looked deserted… Then, what should we see in the middle of that quiet place?  A little stall where a lady sold balut and beer! Totally unexpected. The others start chowing down.
We had almost completely forgotten why we were there in the first place when my mom turns around and gasps. We all swing around to see what she's gawking at… and it was a gorgeous red-orange sunset. The pictures really don't do it justice.

Craft Beer and Good Food
We end the day by having dinner at Sagada Cellar Door, which is about a 250- meter uphill walk away from the pottery place. It's a charming cabin at the top of a hill, surrounded by trees.
Bonfires, Beer, and a Buffet
The owners, Andrew and Bing Girl Chinalpan, are awesome hosts. They welcome us by having us sit on stone chairs around a bonfire. To the side, Andrew sets up at the outdoor bar, puts on some great music, and announces that he's ready to start serving his local craft beers. He has come up with nine different kinds, each with a distinct flavor. He offers tester glasses at P50 each; that way we can try several kinds. The full glasses range from P190-P250 each. Wine lovers can also check out the wine cellar under the cabin.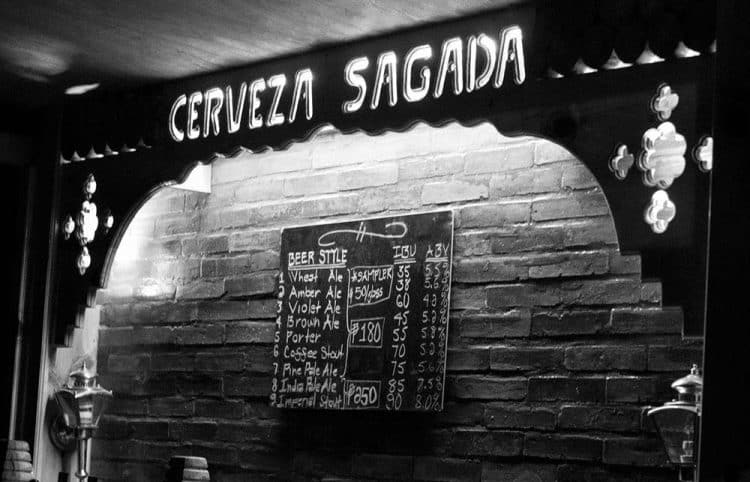 Once we had warmed ourselves by the fire, dinner was served. They had prepared an Ilonggo buffet for us: Arroz Valenciana with mixed Sagada Etag (salted, smoked pork jerky), black rice, bacalao, a delicious salad of the freshest vegetables with sunflower honey, and squash soup with coconut milk. We can't stop raving about the food. Even the kids said they were willing to go vegetarian if our veggies could be that good all the time. I wish we had been able to try the Igorot buffet they had served the night before.
Tummies full, we go back to the bar and chat with our hosts. Andrew is a native Igorot, while Bing Girl is originally from Bacolod. They raised their kids in Manila but always brought them back to Sagada to have some balance in their lives. I hope other natives of the area do the same with their children so they will develop a true connection with the place and help to protect it.
You can check out their Facebook page: www.facebook.com/sagadacellardoor/ and message them for reservations. They will only prepare dinner for a group of at least 10 people. They do have one small cottage good for two, for couples who would like to stay there.
The Grand Finale
Kiltepan Point
We wake up at 4am the next day, and take the van to the town hall where we have to transfer to a jeepney that will take us to the popular tourist attraction. It leaves at exactly 5am and takes about 20 minutes to get there. We arrive at just the right time. It is just getting brighter out. The sky over the horizon is turning shades of orange, and we see the clouds rolling over the hills below us, forming a fluffy white blanket.
Finally, the sun starts to peek out, and we can't help but hold our breaths. It is just SPECTACULAR. I almost want to clap my hands in excitement! This view alone is so worth the trip.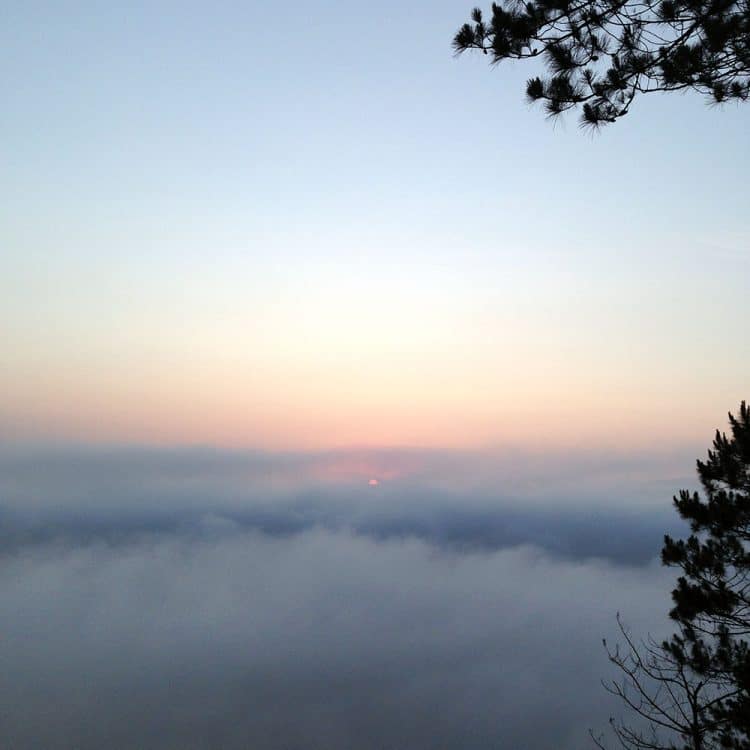 Every ten seconds, it looks a little different. A photographer's dream! God truly is a wonderful artist!
My husband, Lester, reminds me of a verse that completely describes what we are witnessing right now…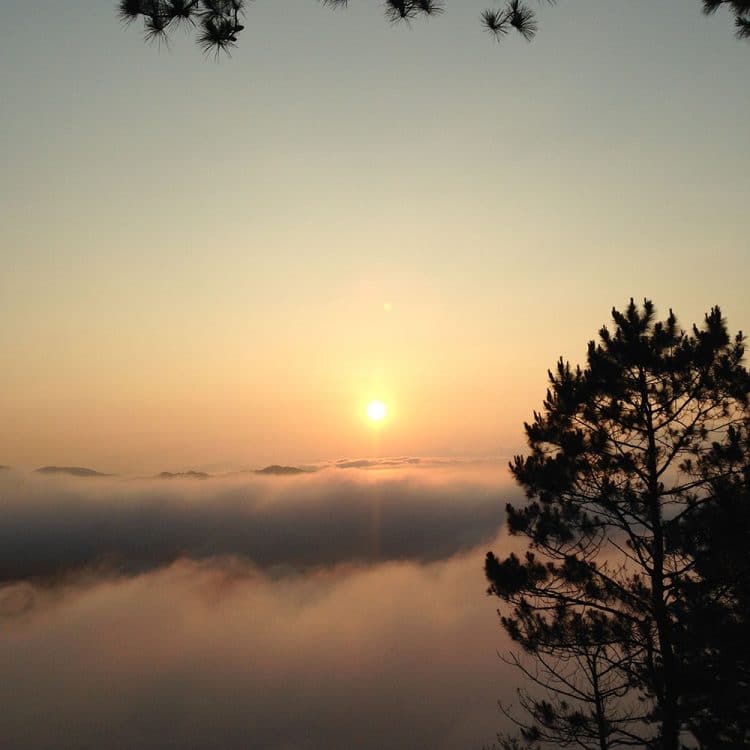 "The heavens declare the glory of God;

the skies proclaim the work of His hands.

Day after day they pour forth speech;

Night after night they reveal knowledge.

They have no speech, they use no words;

No sound is heard from them.

Yet their voice goes out into all the earth,

their words to the ends of the world.
Psalm 19:1-4
Picnic at the Point
We spend about an hour oohing and ahhing before grabbing a table at the picnic area. That glorious sunrise, followed by some hot arroz caldo, champorado, and some good old Sagada brew with the family was the perfect way to cap off our stay here.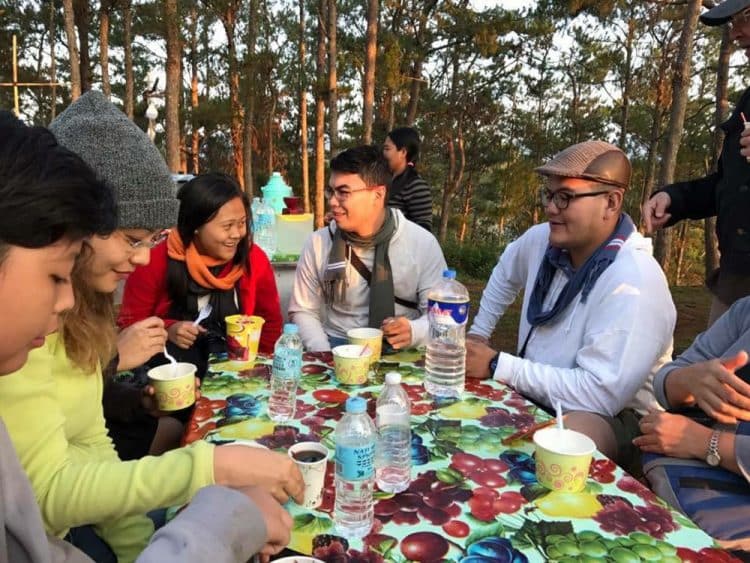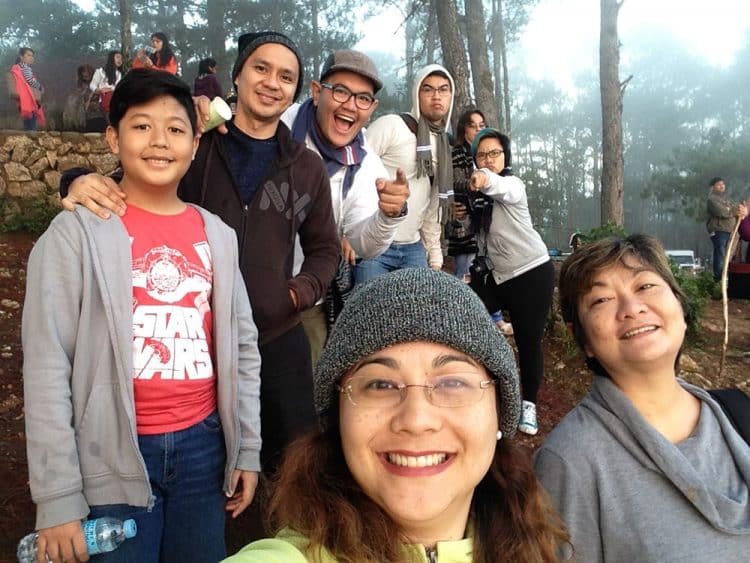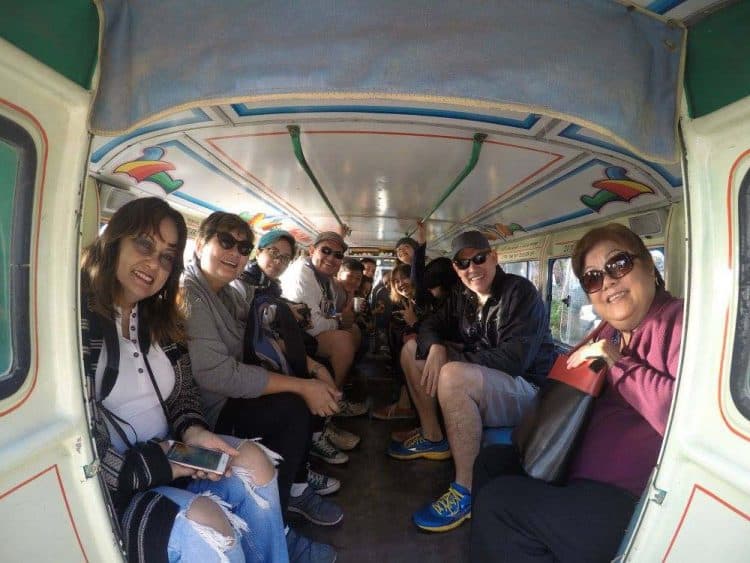 Two days was nowhere near enough time to see everything Sagada has to offer, but what we were able to experience is something we will never forget. Living in the city most of the time sometimes makes us forget just how beautiful our country is.
I don't know if I will ever get a chance to come back. I hope I do. There is still so much more to this place that I have yet to explore.
Thank you, Sagada! And thank you, Lord, for allowing me to experience this with my family. Where to next?
Addendum:
Here is a video montage of our trip by my cousin, Kathryn Layno, who also took many of the photos featured in this post.