"Vida? Is that you?"
My cousins were laughing at the fact that I was gushing over makeup. You see, I was a huge tomboy growing up. Sometimes, when we would go clubbing, they would have some fun giving me a makeover. If I had my way, I would hit up Bai Disco (Is my age showing?) completely bare-faced. Until I was about 30, the only makeup I actually owned was an eyeshadow quad from The Body Shop that my mom gave me one Christmas. I would usually just raid my mom's makeup bag if I had a special occasion that required me to wear some. I would slap on some foundation, bronzer, one shade of eyeshadow, and liptick. That was it. Even for formal events.
A few years ago, my sister was in her room, getting ready for a party, when she started raving about the palette she was using. I took a look at it — Urban Decay NAKED. I had never even heard of the brand! Of course I looked it up online. Finally, I decided to ask a friend to bring me one from the U.S. I thought, 'Well, I should have ONE palette. That's all I'll ever need.'
Yeah right.
Girrrlll, as soon as I swatched that thing, I was hooked. I swear I almost hyperventilated when I first walked into a Sephora last September. My collection has grown a little bit the past couple of years. I blame YouTube. Who knew makeup could be so much fun? Well, apparently everyone else did. I'm just now catching up.
Anyway, this will be the start of my 2-part Makeup Must-Haves series on products from my modest collection that I would totally recommend.
Naturally, I have to kick off with eye products.
Urban Decay Naked Palette (original)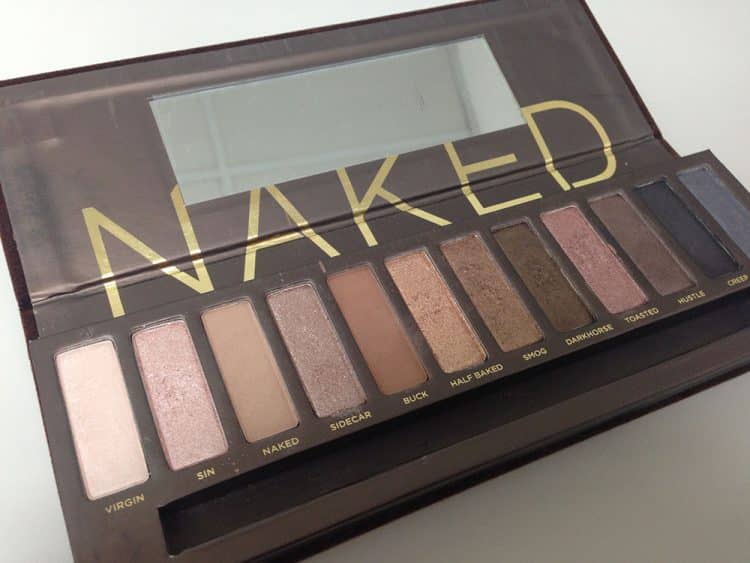 This takes the top spot since this is the one that started it all. It's a collection of 12 shadows with a mix of matte, shimmery, sparkly, and metallic shades. (Yes, I've since learned the difference.) This palette can take your look from daytime to night time with ease. They are soft and easy to blend. Honey, they are like BUTTAH! Because the pigmentation is excellent, this palette will last you a very long time. A little bit goes a long way. I have used mine quite a lot in the last 3 years and I still haven't hit pan on any of the shades. The palette also comes with a free high-quality brush that is perfect for packing on the more shimmery shadows. This is a little pricey but definitely worth it.
E.L.F. Mad For Matte Palette 1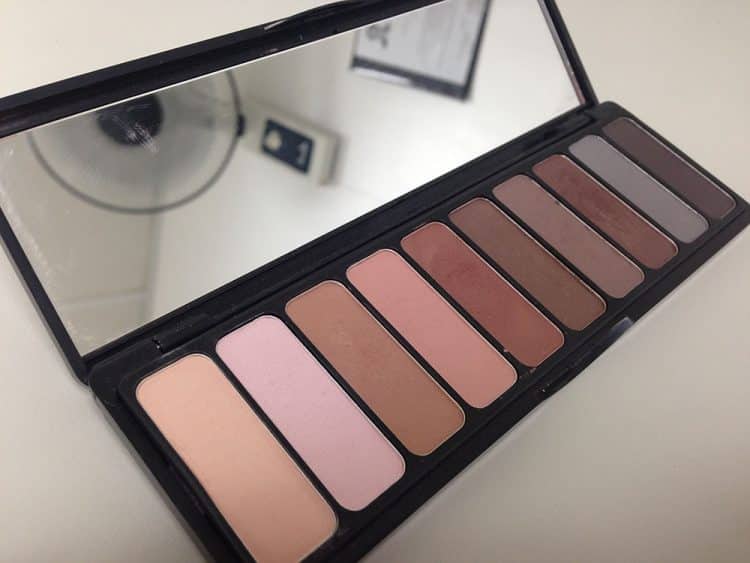 Watching all those YouTube videos might have been a mistake (or not), because I then felt the need for a matte palette. I didn't want to spend a fortune on eyeshadow so I went in search of a good drugstore brand. This one came highly recommended, but was unfortunately not available in our local shops. My dear cousin, Maia, sent this to me all the way from Texas to make up for missing my wedding!
With ten shadows ranging from warm to cool-toned neutrals, you get practically any shade that you would ever need to get a basic eye look. Although the quality of the shadows is not as amazing as those from the Naked Palette, they are still really good. Blending does take just a little bit more work, but it's worth it since this palette is quite affordable. The sleek but sturdy packaging, with a decently-sized mirror, also makes it very travel-friendly. I think the only shadow here that I didn't like so much was the black one. It's not as black as I would like it to be. It comes off as more of a dark gray. Still, it works well for darkening that outer V.
Urban Decay Primer Potion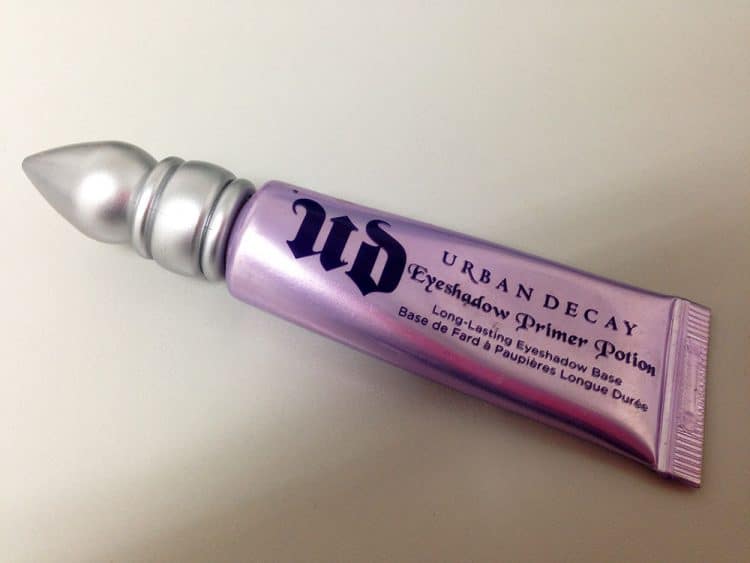 This is like glue for your eyelids! When I put this on under my eye makeup, everything stays put throughout the day! No smearing, smudging, or raccoon eyes. I swear by this primer, and have gotten my mom and sister to use it too. It's up there in price but it lasts a very long time, especially for someone like me, who doesn't wear makeup on a daily basis. I've already got a backup tube of this stuff.
Maybelline "The Falsies" Mascara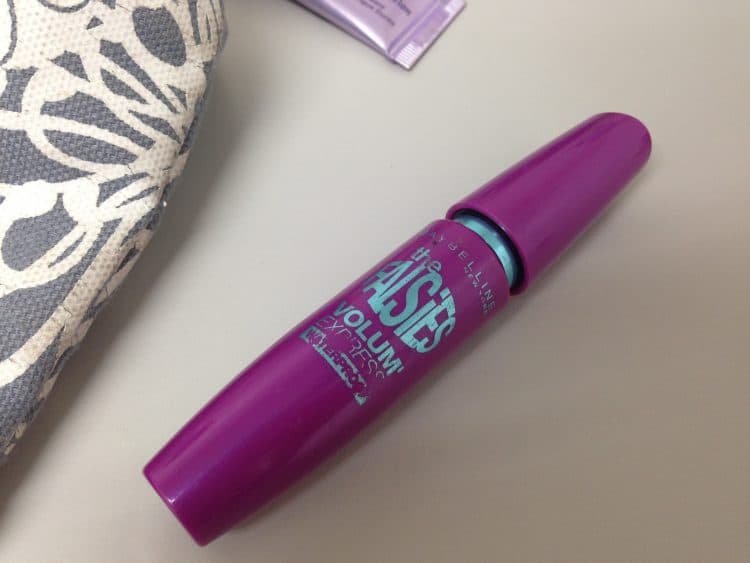 Maybelline makes some of the best mascaras on the market, which is great since they're a drugstore brand! This waterproof mascara will make your lashes look thicker and looonger even with a single coat.
Maybelline Eye Studio Lasting Drama Gel Eyeliner and Nyx Liquid Liner (Black/Noir)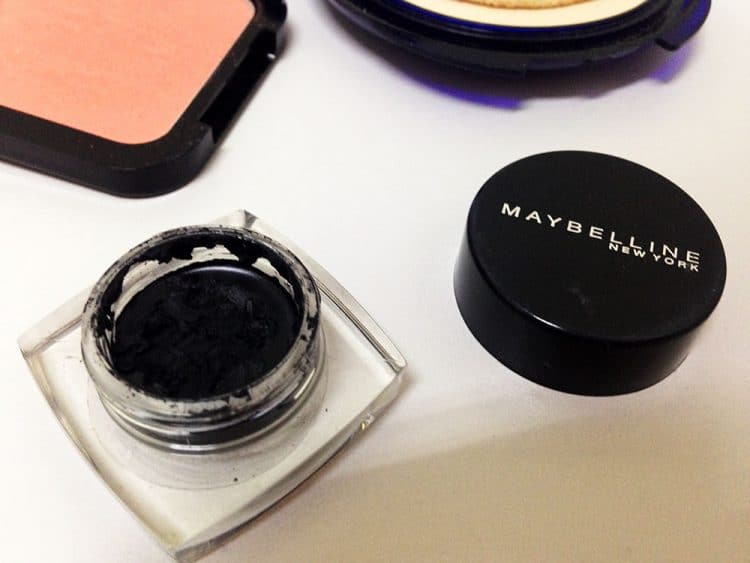 I go back and forth between these two depending on the look I want. The gel liner is a darker shade of matte black. The brush it comes with makes it easy to apply too, although it takes some work to clean. The Nyx liner comes with a very slim brush applicator that is also quite easy to use. You can make the line as thin or as thick as you want. I would say that the Maybelline one lasts longer than the Nyx one with or without a primer.
Sephora Khol pencil (Infinite Beige) and Urban Decay 24/7 Glide-On Eye Pencil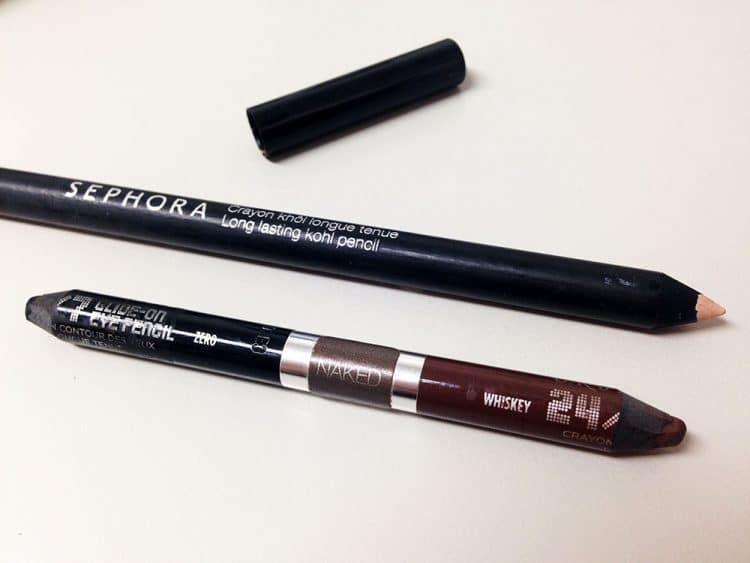 I usually apply the beige liner to my lower water line to make my eyes look more open. (Another trick I picked up off YouTube). My eyes water really easily. Plus I'm a big crybaby. In spite of that, this eyeliner stayed on for hours. It's also creamy and soft so it doesn't hurt when you apply it. I wanted to grab every single color available at Sephora!
The 24/7 Glide-on Pencil is so creamy and pigmented. I love that it's double-ended with a black pencil on one end, and a brown pencil on the other. Like any other pencil liner, this does smudge unless I apply a primer first.
I have a bunch of other eye products that I do use regularly, but they are not what I would consider Must-Haves. I've got my eye on a ton of new shadows that have been coming out lately, particularly the ones from ABH, Morphe, and Makeup Geek. It will be fun to learn to play with more colors, and to master that darned black smokey eye. My son always rolls his eyes at me whenever he catches me drooling over yet another eyeshadow palette. He can't understand why I would need more than one. Silly boy.
Anyway, those were the eye products from my kit that I would recommend to you guys. In my next post, I will mention my favorite face and lip products.
If you have tried any of these, let me know your thoughts on them. Oh, and let me know what YOUR favorites are from your own collections!
Thanks for reading!