Last April 15, 2018, yogis and wellness enthusiasts all over the city flocked to the first ever Cebu YogaFest at Montebello Villa Hotel, organized by Yoga Hub. What a turn out! Even studio director, Jenifer Martinez, was pleasantly surprised. There was a lot to look forward to — yoga classes, wellness talks, food and fitness demos, and a lot of raffle prizes. The organizers certainly did a top notch job.
Yoga at the Glass House
With ten classes they had planned for the day, the glass house was the perfect venue. Natural light streaming in, lush gardens all around… There were quite a number of people who were either new to yoga or who had never even taken a class before. This was a great opportunity for everyone to observe and try the different kinds of yoga practices.
Kicking off with Vinyasa
Teacher Blanne kicked off the event with Alignment-Based Vinyasa. What a great way to start the morning! The poses were challenging (I was drenched in sweat from head to toe) and my muscles were sore for the next two days but it was worth it. I highly recommend her classes especially to those who might just be starting out. She gives very clear instructions so we all knew exactly what she wanted us to do every step of the way.
Inside Flow
This was probably the most highly-anticipated class of the day. Jenifer Martinez recently achieved her teacher certification for Inside Flow in Bali, Indonesia. Naturally, she was excited to share it with the local community. It was quite different from other classes I had ever taken. First of all, the movements were more fluid. It felt kind of like an interpretative dance. Secondly, we actually had background music! Yaaaas! Six flows of the routine in, with "Never Enough" from the soundtrack of The Greatest Showman blaring in the background, and I was hooked. (Of course, now I have the song stuck in my head and playing on repeat. Help.) Without a doubt, I will be doing more of this from now on. I guess I need to start preparing a good playlist.
Other classes that were held throughout the day included: Power Yoga, Parents and Kids Yoga, Pre-Natal Yoga, Rocket Yoga, Supple Spine Flow, Acro Yoga, and Pranayama… There was even a special class for mommies with babies! There was something for everyone.
If you would like to try some classes at Yoga Hub, see their class schedules by clicking on this link: https://www.facebook.com/yogahubph/
Bohemian Garden Bazaar
The garden looked so beautiful, with brightly-colored dream catchers, cushions, tents, and rugs decorating the areas around the booths.
After that workout, I knew I had to hit the Recover booth, where they were offering free massages. Score! One of their most popular products, called "The Balm", was just the ticket for my aching muscles.
While taking a break from the classes, everyone went around the different booths. While some sat in on a dream catcher-making lesson, others got their hair braided and faces painted.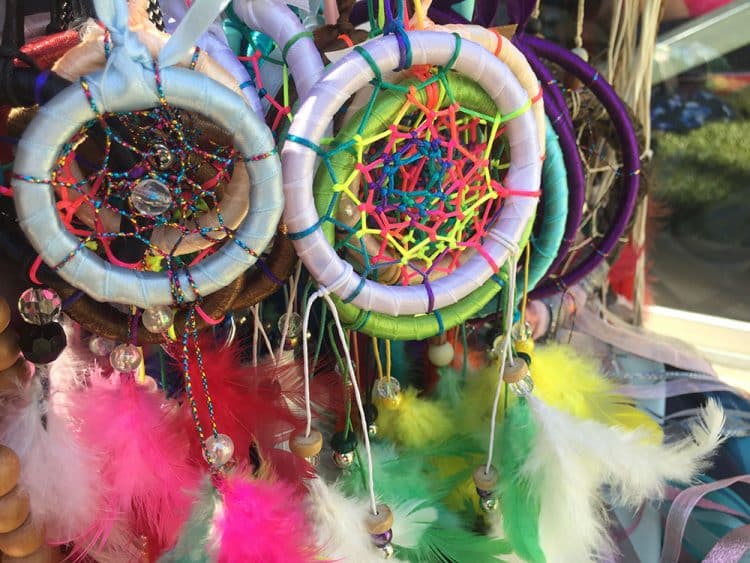 Aside from that, other wellness advocates also gave talks on healthy eating and food preparation, and the use of essential oils. People also got a chance to participate in several fitness demos on Capoeira, Crossfit, and Pound Fitness.
Makers/designers of local active wear, fitness apparel, and all-natural body products also got a chance to display their wares. They make us proud to support local small businesses. Of course, Orochina also took the opportunity to showcase their recently launched YogiJen Collection of gold jewelry designed by Jenifer herself.
I guess you could say it was a very well-rounded event.  It was no surprise that everyone had a great time. I am definitely looking forward to the next one!