I've had several people tell me that they don't like cooking with chicken breasts because they aren't flavorful. Technically, that is true. But while it doesn't have its own innate flavor compared to the drumsticks or wings, it IS healthier, and I find that it has a lot of versatility. You can do so many different things with it. I use chicken breasts in quite a few dishes that allow me to incorporate vegetables.
These are a couple of my personal favorites. Like many of you, I have a day job, and so I really appreciate recipes like these that don't take up a whole lot of time to prepare. That way, my family doesn't starve while waiting for me to get dinner ready.
1. Honey Sesame Chicken with Mixed Vegetables
My sister sent me the basic recipe for this one, but I added my own twist to it.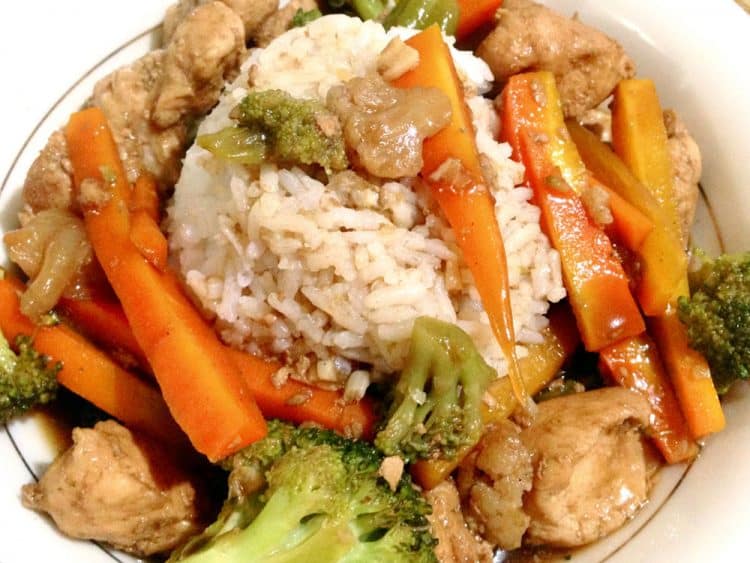 Ingredientts:
2 boneless, skinless chicken breasts
1/4 cup honey (or brown sugar)
1/4 cup low-sodium soy sauce
1/2 cup water
1 tbsp cornstarch
1 tsp ginger (grated)
garlic powder (to taste)
chilli flakes (to taste)
sesame seeds
carrots (julienned)
broccoli florets
bean sprouts
Directions:
Mix together honey, soy sauce, water, cornstarch, ginger, garlic powder, and chilli flakes. Whisk until there are no more cornstarch lumps.
Cut chicken breasts into 1-inch bite-sized pieces.
Heat a large, non-stick skillet over medium heat. Add sesame oil. Let it heat up.
Add chicken chunks and cook until no longer pink.
Pour the sauce mixture into the skillet and mix with the chicken. If it is too thick, you may add water. If it is too thin, you may add some cornstarch mixed with a little bit of water.
Sprinkle sesame seeds.
Cover and allow to simmer for 10 minutes or until chicken soaks up the sauce. With about 5 minutes to go, add your desired vegetables. I personally use carrots, broccoli, and sometimes some bean sprouts.
2. Lettuce Wraps
I was so happy when I came across this recipe because, years ago, there used to be an Asian fusion restaurant at Crossroads, Cebu, that served something like this. It was my absolute favorite and I ordered it every single time I went there. Sadly, the restaurant closed a while back. But now, I can have that dish again! Yay!
Ingredients:
1 head iceberg lettuce
vermicelli noodles (cooked)
1/2 tsp minced garlic
2 carrots shredded
3 tbsp Hoisin sauce
2 tbsp low-sodium soy sauce
1 tsp sesame oil
1 tbsp vegetable oil
1/2 kilo skinless, boneless chicken breast fillets (sliced into strips or chunks, whichever you prefer)
2 cucumbers (diced)
green onions (optional)
Directions:
Heat oil in a wok over medium heat. Cook the chicken, green onions, and garlic for 5 minutes or until the chicken is no longer pink.
Add carrots, Hoisin sauce, and soy sauce, stirring frequently until heated through. Remove from heat, and stir in some sesame oil, salt, and pepper to taste. Toss in the diced cucumbers, and mix well.
To serve, put some vermicelli noodles in a lettuce leaf, and top with the cooked mixture. You may drizzle extra Hoisin sauce over it if you wish. Wrap with lettuce around and eat with your hands!
I hope you decide to try these out… Enjoy!
Thanks for reading!