Weekend (Kitchen and Taproom) is probably one of Cebu's most popular new restaurants. It seems that Jan Rodriguez, the man behind Irie and Ila Puti, hasn't slowed down in coming up with new ideas. With his partners Jay Alba, Jon Yu, and Edward Mellana, he has once again made an exciting addition to our growing culinary scene.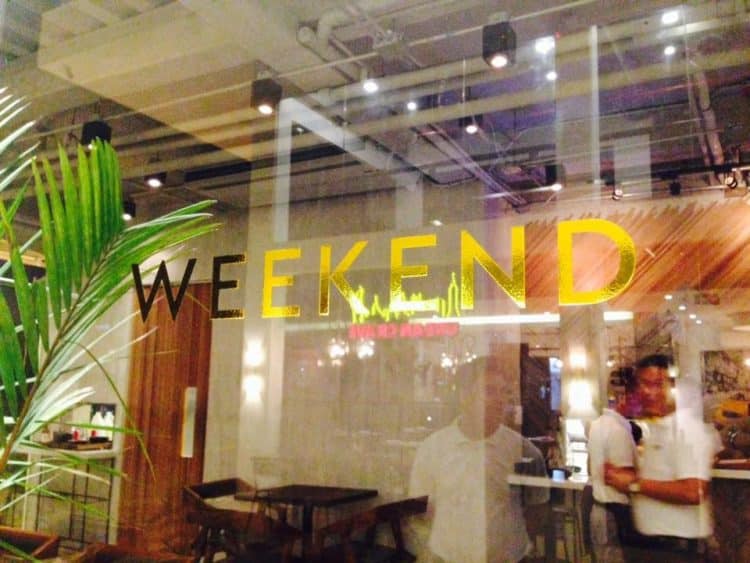 I got a chance to eat there again last weekend with a few friends and I have to say it did not disappoint.
For starters, after you make your reservation, the restaurant sends you a confirmation message via SMS.
Immediately noticeable is how warm the staff is. When they noticed I had been waiting for my friends for quite some time, one of the waitresses did not hesitate to offer me a drink. She recommended the Boost, a refreshing combination of orange juice, lemon juice, and ginger. Very nice.
Starters
When my friends finally arrived, we decided to try their appetizers. First, we went with the Garlic Shrimp, which came highly recommended by our server. Stir-fried with garlic in shrimp head essence and olive oil, this dish packs a punch in the flavor department. It comes with grilled toast on the side, perfect for mopping up the left-over sauce.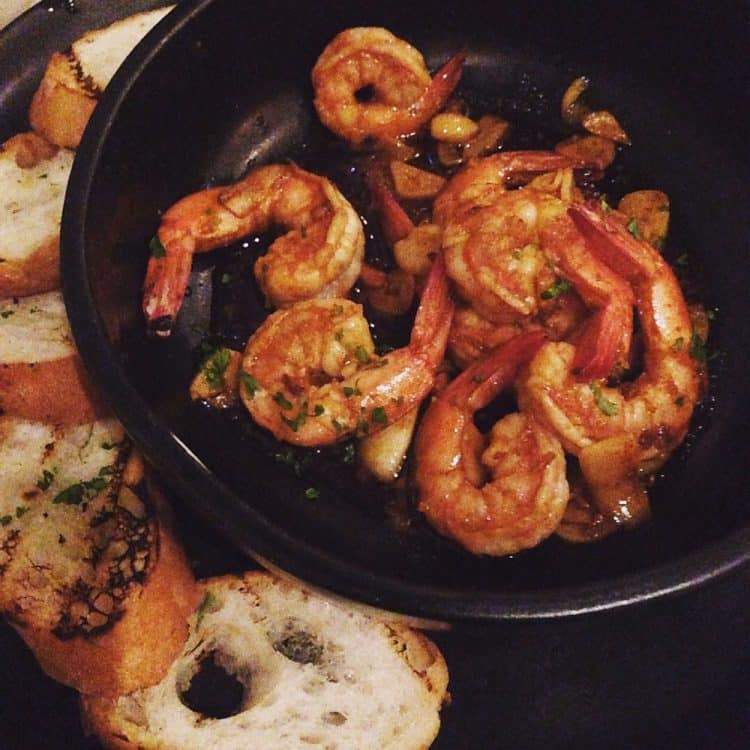 Next was the Faux Gras. I initially thought this was a typo, but it turned out to be a play on Foie Gras. Traditionally, foie gras is a luxury food made from duck or goose liver. These birds are specially fattened to make their livers richer and more buttery. Weekend's version uses chicken liver pâté, made silkier by processing with bacon fat. (Hey, we weren't here to eat healthy anyway.) Topped with homemade bacon marmalade, and spread over grilled toast, the combination just makes for a great partnership.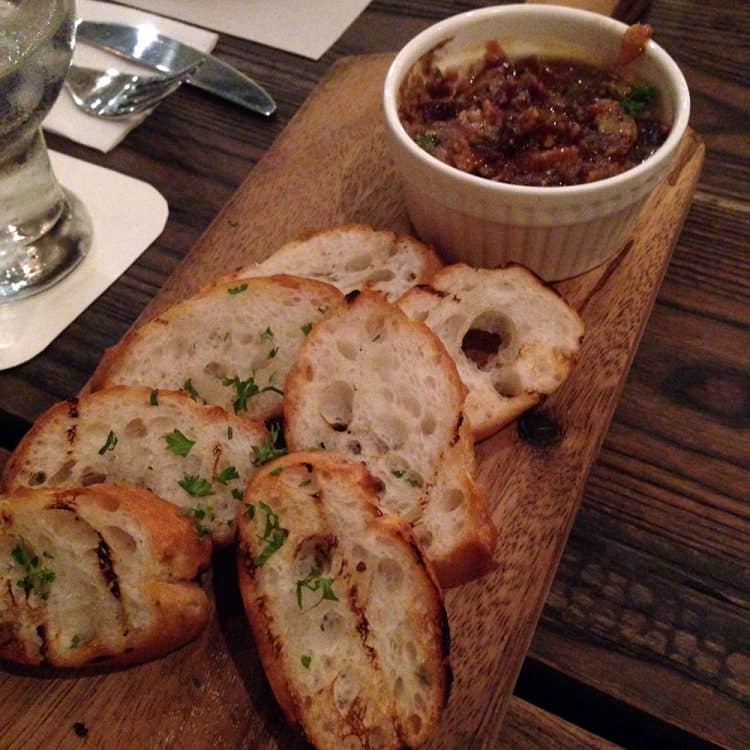 Entrée
The bacon marmalade was also to be found atop my friend's choice for her main dish, Swined Chicken. This was composed of a chicken breast pounded to a nice even thickness, coated in seasoned breading, and then fried. The chicken was cooked very well, and served with pepper cider slaw.  A dash of Sriracha yoghurt also added some heat and cut through the richness of the bacon marmalade quite nicely.
Honestly, this dish had me at "bacon marmalade"… (or just at "bacon"– Let's be real.)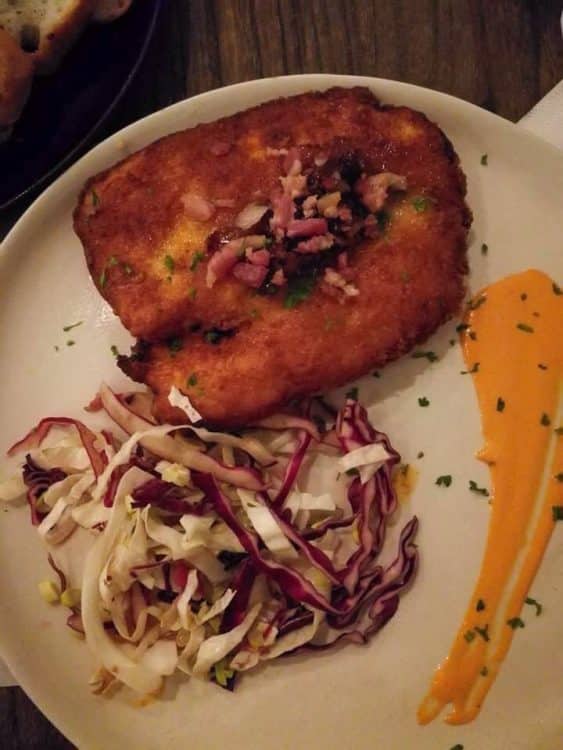 For our main dish, three of us opted for the Fat Bastard— a thick-cut chop, tenderized for THREE DAYS, and dry-rubbed with 14 different spices and herbs. Pan-seared and finished in the oven, the meat was cooked perfectly. It was moist, tender, and flavorful. How they managed to cook a chop that thick without over- or under-cooking it is something I am determined to learn at home.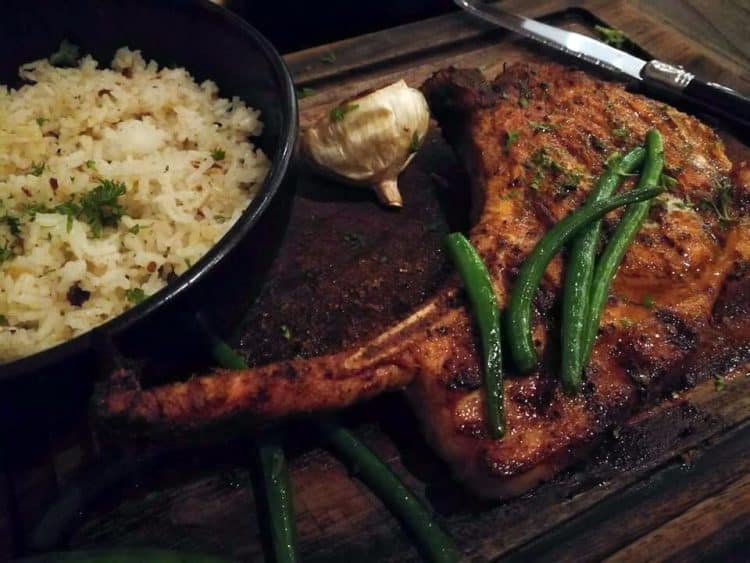 The dish was served with an entire head of roasted garlic, french beans, and a choice of salad, hand-cut fries, or dirty rice. I opted for the Dirty Rice, which was cooked with garlic that had been sautéed with rendered Angus beef trimmings. My arteries and thighs may be complaining, but my taste buds sure aren't!
Finished off with some wine and rosés, this proved to be an excellent meal and experience as a whole. No doubt, we will be coming back  for more… once I manage to lose the 5 pounds I probably gained from all that!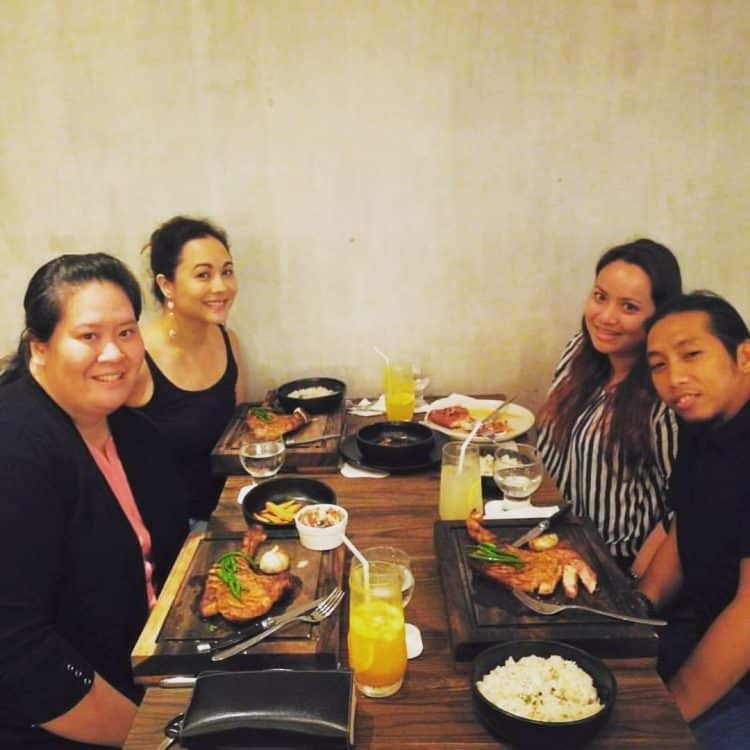 Two thumbs up for the Weekend!
Details:
For liquor lovers, Weekend also serves a wide array of craft beers, whiskeys, gin, and more.
The restaurant is located at The Greenery, Pope John Paul II Avenue, Kasambagan, Cebu City 6000.
To make a reservation or get updates on their special events, you can check them out or contact the restaurant at Weekend's Facebook page.