Quite a few people asked me for my recipe when I posted a picture of one of my favorite chicken dishes to make on Facebook and Instagram, so here it is. This is a recipe that is on my regular dinner rotation schedule simply because my boys love it, it's healthy, and really easy to make. I didn't come up with this all on my own though. Much of this are ideas I got off the internet, which I adjusted over time. I can't take the credit for it. 🙂  Enjoy!
Roasted Garlic Mashed Potatoes
Ingredients:
1 head garlic
1 tbsp olive oil
1 kg potatoes (peeled and quartered)
4 tbsp butter, softened
milk (optional)
salt & pepper to taste
Instructions:
Preheat oven to 350 °F (175 °C) — or preheat an oven toaster if you don't want to use a huge oven just to heat a head of garlic.
Drizzle olive oil over garlic, then wrap in aluminum foil. Bake in oven or oven toaster until tender (~30 mins).
Boil a large pot of salted water. Add the potatoes and cook until tender. This should take about 15 minutes. Drain, and chop into smaller pieces.
Stir in butter, salt, and pepper. If I decide to add milk, I do so slowly as I'm mixing the ingredients together so I get the consistency I like. Sometimes, I leave the milk out and it tastes just fine. Ok, ok… I forgot to buy milk a couple of times so I HAD to leave it out. But it did taste just as good anyway.
Finally, remove the garlic from the oven and cut the tops off the heads. Squeeze the softened cloves into the potatoes, Mix with an electric mixer until you achieve your desired consistency.
Blackened Chicken
Ingredients:
2 skinless, boneless chicken breast halves
1/4 tsp ground white pepper
1/2 tsp dried thyme
1/2 tsp ground cumin
1/2 tsp cayenne pepper
1/4 tsp salt
1 tsp paprika
1/4 tsp onion powder
Instructions:
Preheat your oven to 350 °F (175 °C). Lightly grease a baking sheet. Heat your skillet over high heat until it is smoking hot.
While waiting for the pan to heat up, mix the white pepper, thyme, cumin, cayenne pepper, salt, onion powder, and paprika together. Coat the chicken breasts evenly with cooking oil, then with the spice mixture.
Sear the chicken breasts on the skillet for about 1 minute on each side. After that, place them on the baking sheet.
Bake chicken breasts until no longer pink. This should take about 5 minutes.
Let the chicken rest for a few minutes before slicing into them so that the juices don't ooze out. No one wants a dried out piece of chicken. (Helpful tip I picked up from all those cooking shows I watch.)
Serve with the mashed potatoes and side vegetables of your choice. They seem to go well with corn, carrots, and cucumbers.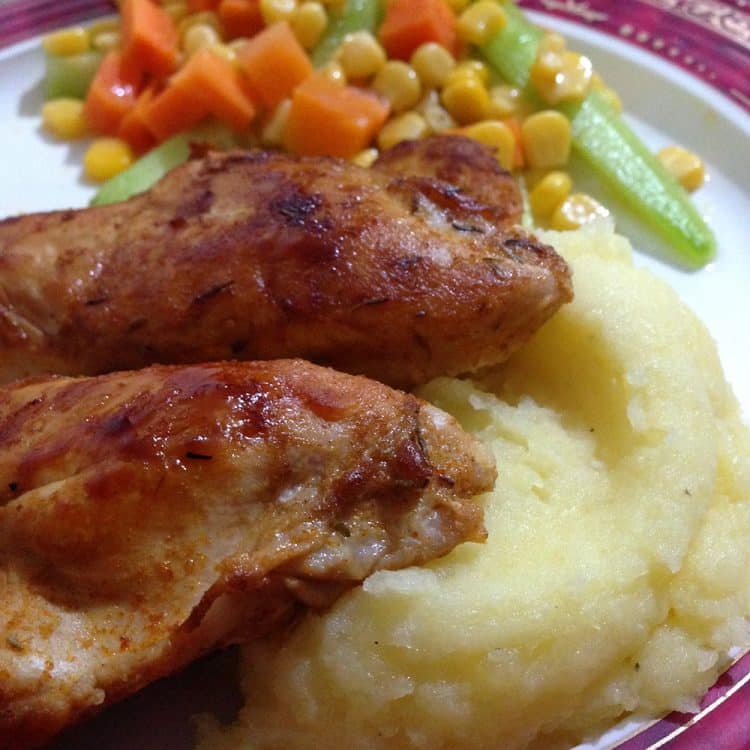 There was one night where I was just in a lazy mood so I went ahead and cooked the chicken in the pan the entire time, reducing the heat right after searing them. They  still came out great, but I had to watch  them closely to make sure they didn't burn.
Anyway, I hope you enjoy this one… Happy cooking!